The Making of "Calling All Tribes" – behind-the-scenes videoblog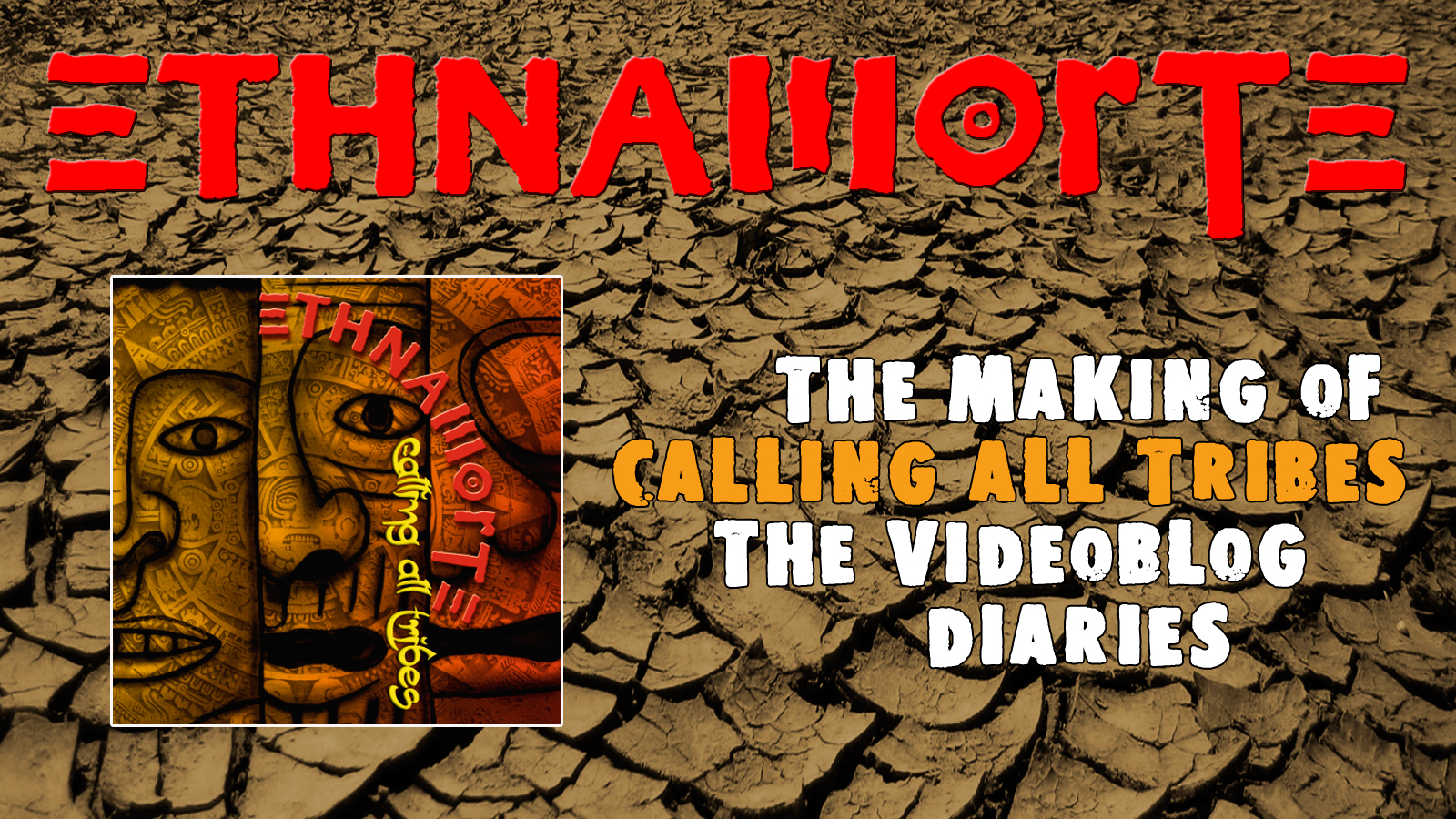 Recorded between Nov 2011-May 2012, here's to share with you guys some footage that captures a balance of both serious & fun moments that went into bringing you our next release "Calling All Tribes".
All footage sound is from the guide track & hence unrepresentative of the better final product put to disc.
Click READ MORE for the whole blog narrated over 7 video stories!
Videoblog 7 : Some Candid Leftovers
Recording time is the loveliest time on earth! Being primarily a duo, for us it is fun just being recording, and we do end up being more serious than a full-band would be, as we discuss with the guy who is filming us. Yet a joke here and there have been cracked, so here is to share it………….
Videoblog 6 : CD Artwork Concept
"I evoke the spirit of Amazon
All the Incas
All the Aztecas
I evoke all the Mayas…."
…. so read some lyrics from the title track to our new CD "Calling All Tribes". Watch the video for a detailed explanation of the artwork & lyrical concept of this CD.
Videoblog 5 : El Gool recording bass
And then came the bass! Yes the bass came last! Not a usual thing for a band to record the bass towards the end, but being EthnaMorte we are used to do anything according to the formula that is most convenient to us, howsoever unorthodox that may sound, in our case not yet having found a permanent bassist to join us (applications still welcome) and thus left with no option but to do it ourselves.
Nonetheless, we have tried to add as much colours to the bass register as possible to give you all a wide spectrum of deep sounds to capture you with an intensity way more than our previous album, through the fretted & fretless 4- & 6-string bass in this video, as well as cello, double bass & bassoon added later via midi. We hope you appreciate our efforts and enjoy the music enough to share around!
Videoblog 4 : Some crazy vocals & ethnic instruments
As you by now know from the list of instruments used to deliver this recording, we have coloured "Calling All Tribes" with different tonalities from around the globe. On this one you can witness our contributors playing ney taki (Iranian cane flute) & gu-zheng (Chinese table zither/harp) – sometimes gently & sometimes over-the-top!
But lo and behold! There are some crazy (for lack of a better adjective) vocal parts too, which viewing them might tell us off as kind of lunatics:) But anything for our art, & wait till you hear them on disc, where all will find its purpose.
Share if you like what you see! & thank you for that!
Videoblog 3 : GuerillaMan recording vocals
With the guitars & percussions all in place, we moved on to the main vocal recordings, again taken care of by GuerillaMan. From his baritone tendencies on tracks to a softer appproach on others, to his all-over-the-place approach on "The Last Breath of The Shaman", which as one can see, was recorded mostly on the floor, with a thankful difference than Robbie Williams would have done it 🙂
Herewith you can also view guest muso Behrang rehearsing his own Farsi vocals (of which you will see more later) and disturbing the producers while trying to be important by playing his ney taki as loud as possible 🙂
So to you guys – enjoy this 3rd one, and see you for the next one! Share if you like what you see! Thank you!
Videoblog 2 : El Gool recording guitars & glissentar (& introducing others)
Percussions laid down, next up were the guitars! A steel string acoustic in a particular own alternate tuning & a flamenco classical guitar (in standard & drop A tuning) were used in the studio in the November sessions. As you can see though, there is also an 11 string fretless instrument there. This, the glissentar, is a fretless hybrid of the classical guitar and the Turkish oud, and was recorded later in May at our own Cool Gool Music home studios.
Between takes spread over different days, El Gool took some time to film our guest musician Behrang (on ney taki – watch out even for an upcoming video of him doing vocals) & our 2 regular photographers Rooz & Francesco, both jovial characters in their own right!
Enjoy this 2nd of a series of videos, and see you at the next one soon! Calling all tribes – calling you – share these posts! Thank you!
Videoblog 1 : GuerillaMan recording percussions
So one late November day under a pale London sky (the type of day El Gool welcomes as a refreshing booster of energies but which sun-lover GuerillaMan nags about), we were welcomed into the studio by Jas Sampson of UnAspected Studios (and his assistant Chris). They had already set-up a roomful of mics in one big room into which we were going to run through a rehearsal or two of all songs that will later serve as guide track. This technique captures as much room ambience as possible, an aura that adds depth to the sound, and in fact between 2 people we clocked close to 20 mics (did we say a roomful of mics?). Awesome feeling playing within this circle of sound actually, to the extent that 6 hours later, the guide track was down & ready!
The morrow we returned to record the percussions! And here is for you our 1st videoblog that documents most of what happened on that 2nd day of our recording sessions. Hope you enjoy!
The story continues…. subscribe to youtube.com/ethnamorte to be the 1st to know once we upload the next videoblog!
"Calling All Tribes" is a hand-numbered limited edition release by the fans for the fans! If you like our sounds, get it while stock lasts from our Merch page.
Meanwhile, THANK YOU for sharing this page!
To view all the videos as a playlist one after the other, click play hereunder!