"Calling All Tribes" Out 30.11.2012, FREEBIES on pre-orders to 29.11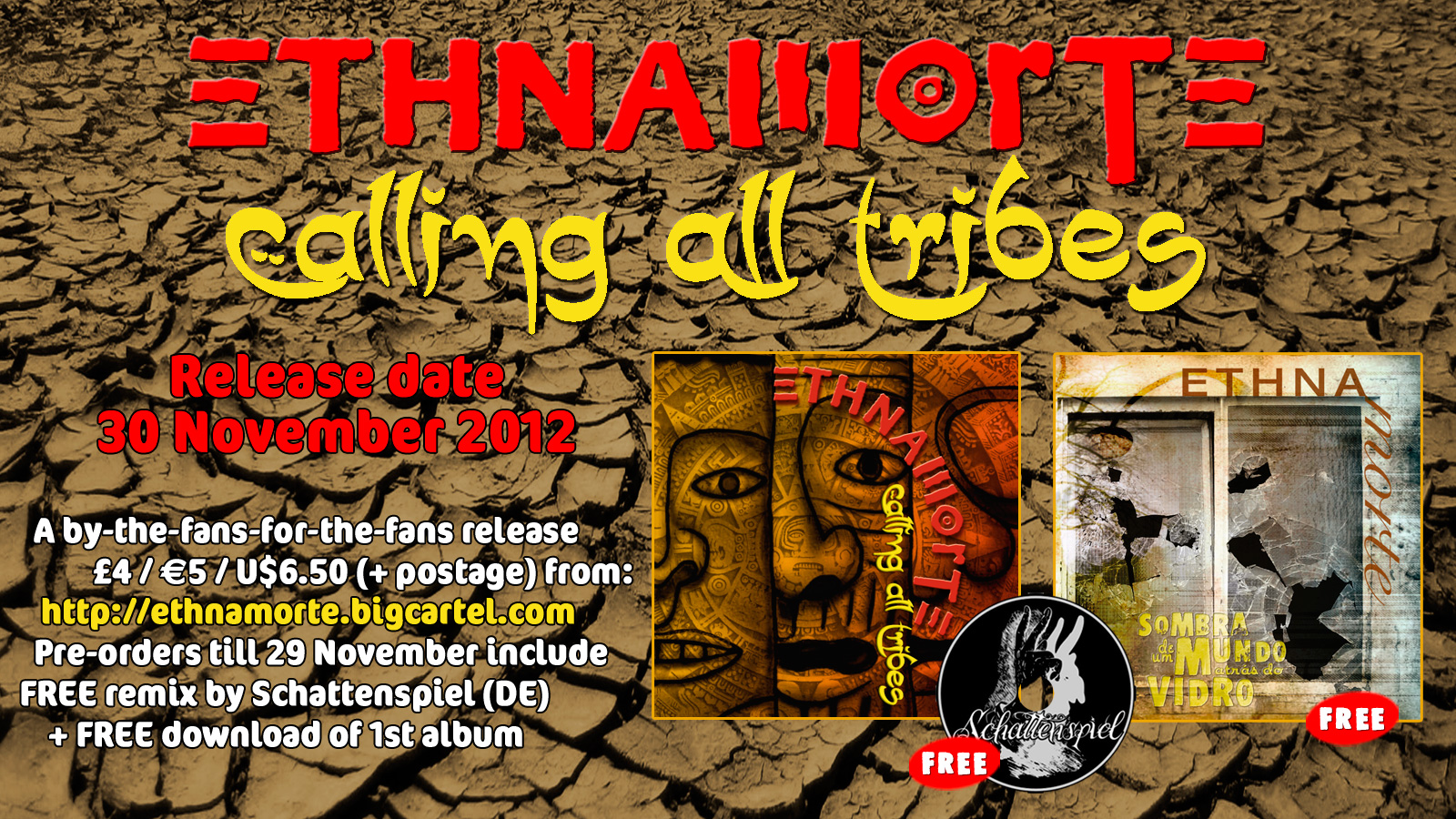 Recorded between Nov 2011-May 2012, please welcome "Calling All Tribes", a near 40 minute release, aided by different musicians (including new live performer Xiaoying Chang on gu zheng) and vocalists (the title track alone is sung in 15 different languages).
Click READ MORE for Sounds, Artwork, CD Info etc

Release date – 30 Nov 2012. A release for, and by the fans.
Ours being a niche market, we are looking at keeping this as an exclusive release for close followers of our music. Highly unlikely to sell in large amounts, for us to keep the price low at £4/5U$/5 Euros (+ postage) for you guys, we kindly welcome all pre-orders till 29 Nov 2012! To thank you, all pre-orders come with a FREE remix of 1 of the songs from the album + a FREE DOWNLOAD of the 1st album!
We depend on you, the fans, to help bring this release to light! So if you like our sounds, order today from ethnamorte.bigcartel.com & share this page! Thank you!

CD Details:
– 8 page booklet with inner tray sleeve. Preview it by clicking above image
– Includes on-body full-colour printing
– Sung in 16 different languages
– Limited edition (once only run) not available as digital media on i-tunes, amazon etc.
– Each CD will be hand-numbered
– Price: £4/5U$/5 Euros (+ postage).
FULL DTLS AT www.ethnamorte.com/cat
– Price: £4/5 Euros/6.5U$/ (+ postage).

Instrumentation
flamenco classic guitar
glissentar (a hybrid of an oud & a fretless classical guitar)
acoustic steel string guitar
4-string & 6-string fretted bass
4-string fretless bass
cello
upright bass
bansuri (Indian bamboo flute)
ney taki (Iranian cane flute)
guzheng (Chinese table zither/harp)
percussions
taiko drums
piano
The Musical Stones of Skiddaw (stone xylophone)
wine glasses
+ the following vocals/languages
English – male
Italian – male
Maltese – male
Portuguese – female
Spanish – male
German – 2 different females
French – male & female
Finnish – female
Swedish -female
Danish – female
Polish – female
Sesotho (South Africa) – 6 yr old male kid
Xhosa (South Africa) – female
Yuruba (Nigeria) – male & female
Farsi (Iran) – male
Benghali (Bangladesh) – male
Tracklisting
– Calling All Tribes (To Death)
– Fingers
– A Better Shade of Beauty
– The Last Breath of the Shaman
– Echoes of The Shaman (The Golem's Play) – Remix by Schattenspiel – only available with pre-orders till 29/11/2012
Jas, the recordings' producer (UnAspectedStudios.com) had the following to say about EthnaMorte's release :
"Calling All Tribes (To Death)" opens this CD like a desert dust storm, before it leads into "Fingers", the calm after the storm, an indeed more nurturing aspect that grows the seed of "A Better Shade of Beauty", a genial work that balances the polarly differing beauties of calm & frenzy with seamless effort, until all this is consumed by "The Last Breath of the Shaman", bringing visions of the undying jungle he leaves behind before his final breath."
CALLING ALL TRIBES OFFERS: (click on images for higher-resolution pics)

Alternative # 1: Calling All Tribes (available worldwide)
Calling All Tribes CD
UK £4.50, EU €8, Rest of World U$12 P&P
Postage free on UK orders if purchased by gig date 23/09/2012
(all pre-orders till 29.11.2012 include FREE DOWNLOAD of 1st album + Schattenspiel remix)
Alternative # 2: Tribes + Sombra (available worldwide)
Calling All Tribes CD + Sombra de um Mundo atras do Vidro CD
UK £7.10, EU €11.50, Rest of World U$17 P&P
(all pre-orders till 29.11.2012 include FREE DOWNLOAD of Schattenspiel remix)
To order, please visit ethnamorte.bigcartel.com