ONLY London gig 2012 – incl. new songs + new CD listening session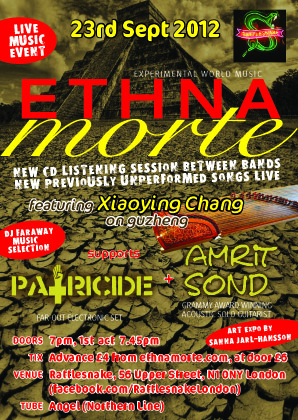 EthnaMorte's only London gig for 2012 (including listening session of new CD).
Supported by Amrit Sond (grammy award winning acoustic guitarist) & Patricide (far-out experimental electronic set). With art expo by Sanna Jarl-Hansson (click Read More to view artwork samples) & DJ Faraway.
Doors open at 7pm
EthnaMorte CD listening session 730pm
1st live act 8pm sharp!
Afterparty with DJ Faraway til 1am

Get your gig tickets and/or CD here
EthnaMorte
Described by fans as anything from "tribal introspective sound" to "pleasurable trips that are not understood till the journey ends" to "acoustic doom metal with no metal at all" to "a mission through many facets one has to see to understand", EthnaMorte returns to the stage, introducing Xiaoying Chang on gu-zheng (21-string Chinese zither), ocarina, additional vocals & hand percussions.
Performing both fresh never-yet-performed songs, as well as upcoming Calling All Tribes tracks re-coloured with Chang's instrumentation.
Besides, this serves as a listening session for the upcoming studio release Calling All Tribes! Be there early to listen to all songs in their entirety between live acts!
http://youtube.com/watch?v=kz06rJwFPMg.
Amrit Sond
Born in Kenya to Indian parents who then moved to Kuwait, Amrit Sond's unique contemporary approach to guitar playing draws on elements of World Music, Jazz, Classical, Folk, Rock and New-Acoustic Techniques (two-handed tapping and percussive slaps), aided by unorthodox tunings and time signature changes aplenty.
A Solid Air Records USA recording artist, Amrit Sond has been featured in the US Fingerstyle Guitar Magazine & aired on BBC 4 (among an array of notable guitar publications & radio shows), appearing at The Opera North Leeds Grand Theatre, The Acoustic Avalon Show in Leicester, the Cambridge Folk Festival, London Guitar Festival, the Frankfurt Musikmesse in Germany, sharing stages with Dominic Miller (STING), Antonio Forcione, Jacques Stotzem, Preston Reed, Neil Stacey, Mike Messer, Clive Carroll and John Etheridge, and winning a Grammy for his version of the Henry Mancini classic tune "Two for the Road". No wonder he is endorsed by a multitude of guitar companies.
Handpicked by EthnaMorte for the occasion, Amrit's set promises to challenge yet mesmerize, to keep you focused on his playing yet make you dream with the music he conveys!

http://myspace.com/amritsondguitarist & http://vimeo.com/18464937
Patricide
A group of artists from London's underground electronic scene, they prefer only their website & video do the talking. Feel free to visit this electronic project at
http://myspace.com/killyourfather & https://www.youtube.com/watch?v=qoz2QgkxMpA
Sanna Jarl-Hansson
A graduate in Fine Art currently based in London, having studied both at Middlesex University and Camberwell College of Art.
With an interest in drawing, mark-making and exploring texture, the art work Sanna will present at this evening looks to ask questions about memory and hidden traces. The work shown will be a glimpse into the ideas that she has been concerned with over the recent years.
DJ Faraway
Having over the years been involved within many of London's underground circles & DJing on Wireless FM, Faraway will present a hybrid of interesting original music that cross-borders genres before & between the bands.
And later till 1am, if your feet beckon, he will up the rhythm with a does of heavier stuff to keep the energies going!
If you are on a social network, you can also RSVP/share the event at