Project αΩα : EthnaMorte 2007 to date
(Please note that this footage is not from Project αΩα but from random videos along the years before αΩα was launched!)
Project αΩα (Alpha Omega Alpha)
Life : Death : Rebirth
Creation : Chaos : Regeneration
A project showcasing EthnaMorte's road from its Nov 2007 inception to date, & beyond.
The Mayan mask of life, death & rebirth on EthnaMorte's latest Calling All Tribes CD sleeve says it all – this series of works brings together EthnaMorte's past, present & future for all old & newer fans alike. Calling All Tribes!!!
Following EthnaMorte from its April 2010 debut CD "Sombra de um Mundo atras dos Vidro" to its Nov 2011 follow-up "Calling All Tribes" all the way to an upcoming 3rd release, Project Alpha Omega Alpha will be a series of gigs leading EthnaMorte into their next CD, which title will be revealed in due course.
Creation : Chaos : Regeneration
Older songs : current songs : upcoming un-recorded songs!
A window into the future while re-working the past via the theatrical stance that currently shapes EthnaMorte gigs! Reworks of past songs not performed live for a while, material from the current Calling All Tribes & newer songs still to be recorded.
With the sole purpose to guarantee that every gig is a totally different experience for you, the tribe!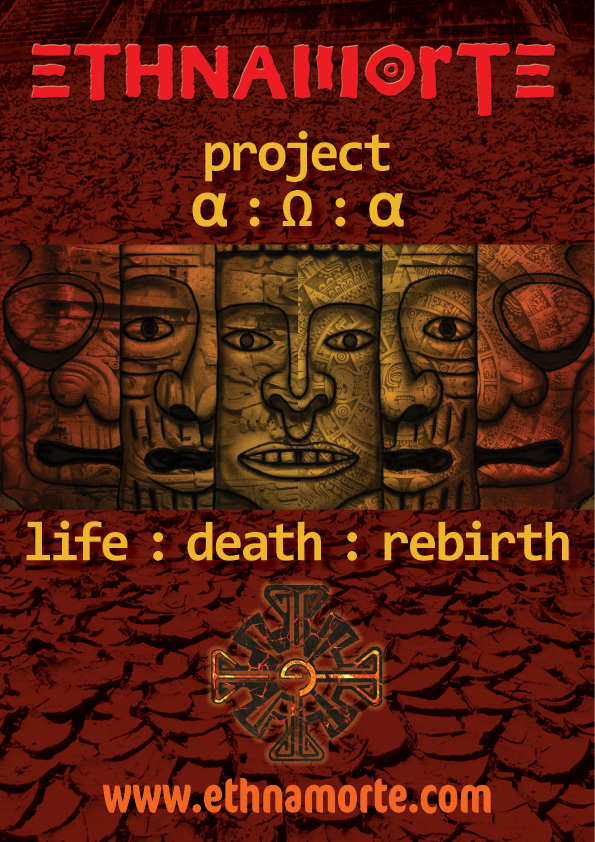 Thus, we invite musical & theatrical contributors who would like to appear live with EthnaMorte, or have their arts/crafts exhibited at our shows. If you are an artist in any medium (including but not limited to musicians) who wants to get involved in Project Alpha Omega Alpha, please email manager@ethnamorte.com! Likewise if you want to book EthnaMorte to play your venue.
List of Announced Performances
Act I, Scene I-VI > 10 April 2013 @ The Unicorn, 227 Camden Road, NW1 9AA London. Info here

Act 2, Scenes I-IX > 25 May 2014 @ The Islington, 1 Tolpuddle Street, N1 0XT London Info here
Act 3 – Subscribe for upcoming info here!